THE (second) LIST
Here we go!
1. Aristotle, Or Nietzsche
2. Sir Sandford Fleming
3. Saint-Just, "the mad pretty-boy of the French Revolution"
4. Herodotus of Halicarnassus
5. "but i need these baskets back"
6. Michel Foucault
7. Louis Riel
8. Madame de Pompadour
9. Leonard Cohen
10. Edmund Spenser or Mary Sidney
11. Sir John Franklin, or Captain Cook
12. L'Anse aux Meadows
13. George Orwell
14. Stomping tom connors
15. Robspierre
16. The Battle of Hastings, or Alexander the Great, or Robin Hood
17. Charles Babbage
18. Prince George IV
19. Henry David Thoreau
20. Tadeusz Kosciuszko
Number 5 may be confusing to anyone who hasn't seen this:
http://www.histori.ca/minutes/minute.do?id=10186
But you won't regret watching it ever.
Chack out the hourly comics thing today, I have been thrown into the ring. Life in Fort McMurray! It's terrible.
You know I was thinking that I would ask people to send in their photo recreations of the last panel of the Tesla comic, because honest to god, that thing is everywhere, and better known than I am on its own. Plus, it would be a HILARIOUS set of pictures to have.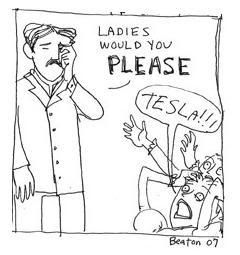 TESLAAAAA
Edit:
I'm stupid, here is the link to my hourly comic on the messageboard:
http://www.tencentticker.com/msgbrd/viewtopic.php?t=593
I'm sorry I live in such a stupid place now and you have to see it.
and here is the whole thing with everybody!
http://www.tencentticker.com/msgbrd/viewforum.php?f=22
Comments {42}