Ok I am making this an Actual Thing
Have you seen this panel?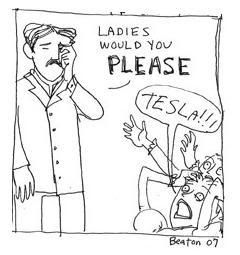 You probably have, if you are reading anything posted by me at all.
I made a comic about Nikola Tesla
a while back and if there is anything that I have done which has been forwarded or mentioned or posted or anything at all it is
this comic.
Ladies, men, children, old people, animals, everyone knows how hot hot hot Nikola Tesla is. We are talking a Major Babe / Major Science no person can resist. I am wondering if you still have your underwear on at all, you'd better check.
Anyway,
If there is a second star in this comic it is the lady in this last panel. I have been told this many times. Like when I die it is probably going to say 'TESLA!!!' on my tombstone. So now then, good people, I think it is time for some PHOTO GOOD TIMES.
Basically what we are after here is photo re-creations of the last panel, because the only thing that can come of it is this: Amazing Hilarity. For everyone.
This is my email: kathrynmoira at gmail dot com
I will have to think of a prize or something for the best one, besides the undying affection of the internet at large.
I think I have too much fun, and it's unfair.
Comments {28}