Canada </3 America </3 Britain
Ok so yesterday's post was all for loving America! Wooo! Wasn't that a party!
But let's get serious here. A few comments in recent comics have reminded me how much I love old political cartoons, and now I am making a post about that. Unfortunately for you, America, this means you are out of luck! Little did you know, because you don't give two farts about Canada ever, but we care lots and lots about you. We know all about you! We also think you are out to get us. Allow me to show you a thing or two.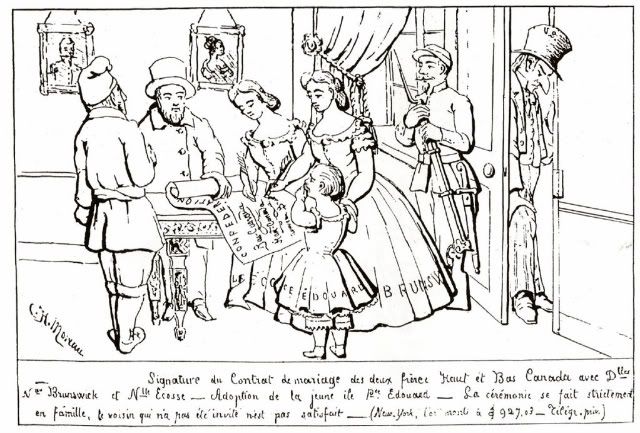 Oh my gosh! We are trying to have a sweet (Confederation) party and America is lurking in the door! America, you're not invited! Why can't you just let us have a good time! You never let us have a good time! And you ruin all our parties.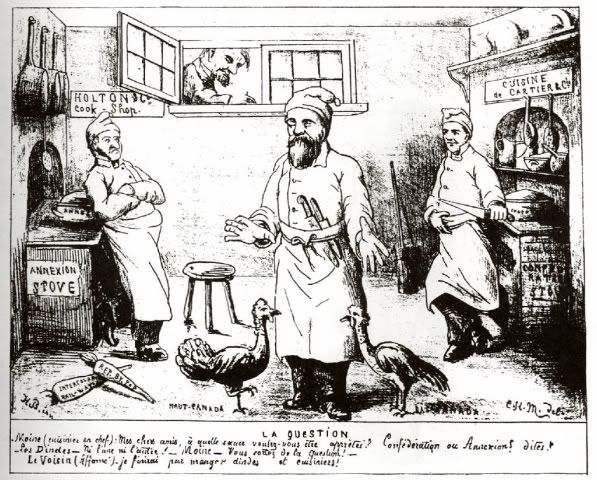 God, here I am just trying to cook my chickens like no big deal and AMERICA IS IN THE WINDOW
AMERICA THESE CHICKENS ARE MINE. Stay away from my inter-colonial railway carrots too and my uhhh union-of-provinces bag of flour? My Dominion of HRH Victoria turnips.
I love how everything in old political cartoons are labelled, in this case the point of interest is the 'Annexation Stove.' What goes on in there! But why are we so mad about America hanging out in our doors and in our windows? Aha, here is why:
This is why! America
wants us bad
. It goes to bed at night chuckling to itself, Canada Canada you will be mine! It doesn't even need facts! All that report even says is 'President Taft's Report on the Progress of Reciprocity with Canada.' This is because every American knows that 'reciprocity' means 'hostile takeover.' Stop trying to trick us!
The other thing is, America has the hots for Canada like you wouldn't believe:
(here it is worth mentioning that Uncle Sam used to be called Brother Jonathan). Anyway, as you can clearly see, Bro. Jonathan wants to nail Miss Canada, he wants to get down and dirty. She is not having any of it, and instead is taking a basket full of score from the fair and going home like the lady she is. Old Jonathan is not always so cordial though.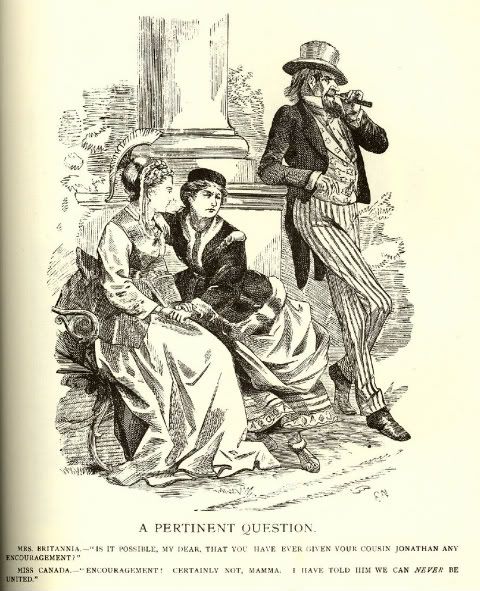 Look at him there, picking his teeth, scratching his balls.
GROSS
. Never fear, Mother Britain, we will never make out with that dirty old pervert. We like nice, clean countries that you approve of, we are a good daughter!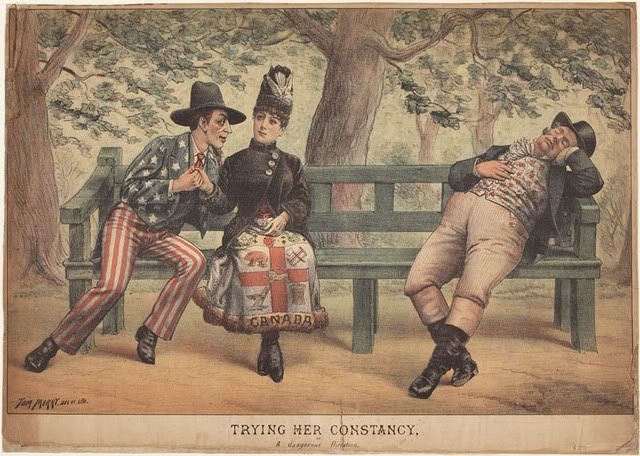 Not that you can really blame America for wanting to bag Canada, look at that dress! Canada is damn hot and hella stylish. You find a country that isn't talking about hitting that!
Ohhh Miss Canada you say, you are some frigid though, I mean jeez, could you be holding those legs together any tighter? No, she can't, she is like Pamela or something. What the heck is Daddy Britain doing on this date anyway? Asleep on the job? Scandalous, I am scandalized.
Before any of this nonsense began though, Canada had some choices to make! Do I become part of the USA or stay where I am? In this cartoon Lady Acadia (sounds better than Lady Nova Scotia and also New Brunswick) is deciding! It's an important day in her life. Do I go to Washington where the road is littered with signs that say DANGEROUS and there are bowie knives or do I Ottawa where there is a cornucopia full of flowers (?), Joe Howe sitting on a pot and Charles Tupper looking like a rapist? Hard choices, these are hard choices.
But Canada is not always a lady! Sometimes it is a strapping young man named Young Canada. Observe: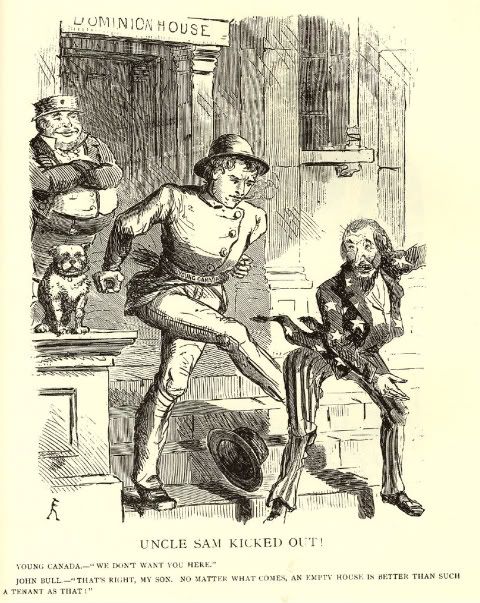 Here he is, kicking uncle Sam in the seat! What a shocking display. Ho ho, America was not expecting that! We do it for us, but we also do it for Britain, gosh but Britain is fat isn't it. Anyway,
annex this
, America!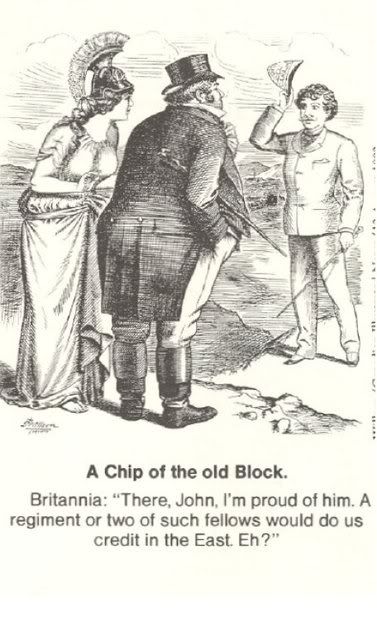 Here we have the origin of the word 'eh'! Canadians adopted it after Britain's glowing review of how we murdered people in her name in far off countries. A legacy to be proud of.
Alright Alright, I am putting in the next ones just because I find them funny.
AMERICA
I didn't know that's what you wanted trains for! Truly you are a cruel people.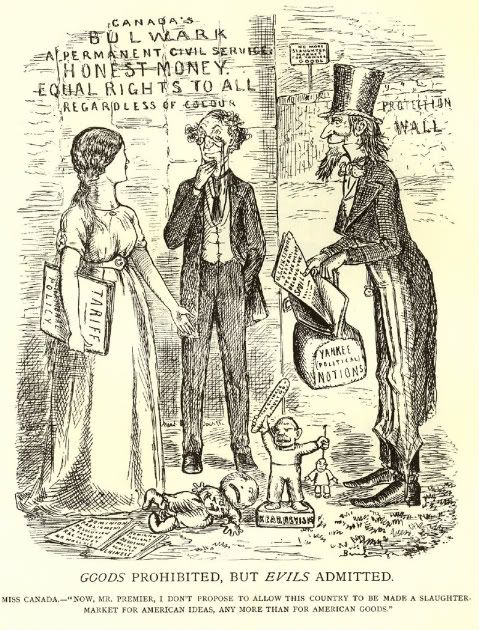 This cartoon is about how the Canadian government wanted to trade with the United States. But if you trade with them for goods you get a whole bunch of shit you don't want! IDEAS- Nooooooo
But what ideas? Let's take a closer look:
RAG BABIES
Lastly, I don't even know what is happening here. Probably has to do with the Fenian raids or Britain being busy with Irish uprising but anyway there is a lot going on.
Comments {209}