Beards Of America, Part One: So Many Beards
Perhaps you remember the fury of excitement I was in over visiting Glory Land (I declare, the
United States
), and if you don't, I definitely recall trumpeting it like some crazed lady whose house is the shopping cart full of cats she pushes around the city. No doubt that is the troublesome future which awaits me. Meantime, making the most of precious sanity while it lasts, we did indeed roll on through the states united to peddle wares at the Small Press Expo. High on the list of priorities was, as you may recall,
GETTYSBURG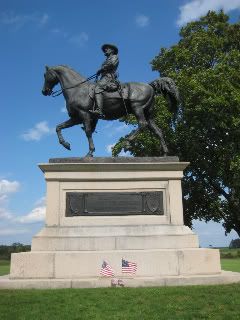 Upon entering the grounds we had little idea where to begin. Luckily, General Reynolds of the Union Army was there to show us both where the entrance was and (by his gaze) the bathroom, which was a relief for yours truly. I did not have any American flags to lay at his feet, it appears this was almost certainly a faux-pas.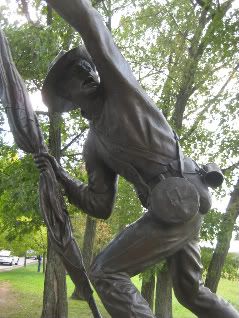 Well if you thought Reynolds had you revved up here is this fellow to do him one better. "Come with me for adventure!" he says. By all accounts this was the general theme of the Civil War, setting the standard for 'fun' wars to come such as the Boer War, the Franco-Prussian War, and the Halifax Rum Riots.
Here are the boys from the Carolinas, looking for peaches. Where are the peaches! Probably the Georgia Battalions have eaten them all. Later they would find them in the Peach Orchard, which unfortunately turned out to be the scene of a bloody slaughter but I mean come on boys you should have had your head in the game, not on your bellies.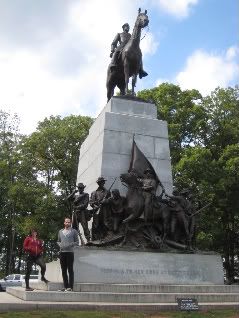 Now what is this! Why it is one of about a hundred Virginia monuments in the area, I am almost certain Virginia put statues for everything from troop movements to possible latrine locations (I have not included photos of the latter, that would be in bad taste for this family friendly presentation). Or maybe it was that Virginia erected a statue for every fallen soldier, I am not sure and don't have my brochure on me. As you can see from the Real People in the photo, this was a monster of a thing but that is the Gettysburg way. Later we came across monuments you can see from space.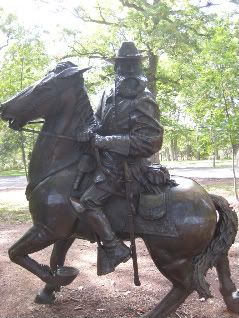 FINALLY a beard you can get both your hands in, if it wasn't metal. This statue allowed close inspection because is was so low to the ground. What we discovered was that General Longstreet rode the horse with the most terrified expression, and that he must have brushed his beard 100 strokes every night to make it appear so even and smooth. He also rode into battle with his head turned to the side, no dang wonder the Confederates lost.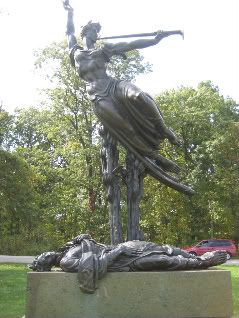 Ah yes, the Louisiana memorial. When a soldier from Louisiana died in battle, a lady angel with muscles like Rambo would come down from heaven, trumpets blaring, and take him to the van out back. The van was also a monument, it was just hard for us to figure that out with our modern eyes. After looking into it, it turns out Louisiana was far ahead in terms of automotive technology.
This is of course in stark contrast the neighbouring Mississippi monument seen here. Mississippi came to Gettysburg to beat the brains out of anyone they saw with the butts of their guns. Later they were taught how to shoot with guns as they were built to do and it was very embarrassing for everyone, no doubt.
Here is the scene of Pickett's Charge, a turning point in the battle from which the Confederates would not recover. Nobody made it to the top in the charge, but if they did, they would have seen a Virginia memorial.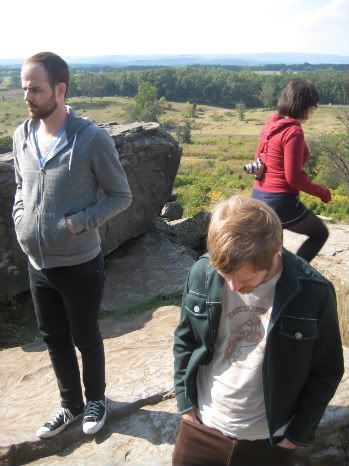 Are you finding this as exciting as everyone I was with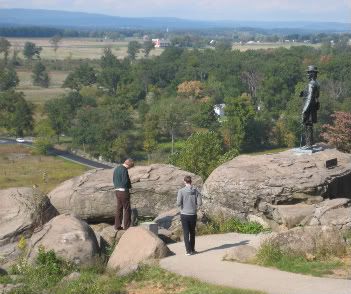 Did I mention we brought a friend made of iron to tell us more about his metal brethren? He was our personal guide to the ways of the men of ores and alloys.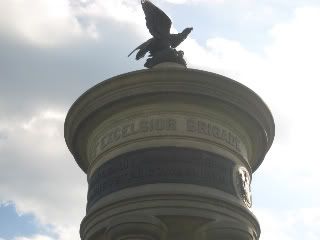 Excelsior: This was the monument to the Nerd Brigade, who tragically fell when they came out of their mother's basements and were exposed to the sun.
It was heartwarming to find this large statue of men holding hands. Underneath, the inscription: 'To Best Bros Everywhere'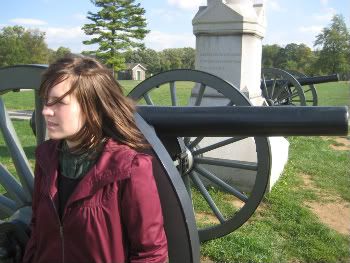 Who left all these cannons lying around! Pardon me while I ride them around the park.
Oh no! Is it time to go already? Yes it is, Abe Lincoln is giving us a friendly but impatient wave. Do not worry Abe we will meet again! We are headed for Washington next.
Incidentally, Ryan North accused me in his comic today of serving him gross popcorn, I will have you know that I put the popcorn by the sink intending to throw it out, because it was gross, and when I found Ryan eating it I told him so but he ate it
anyway.
I wash my hands of this!
Comments {93}