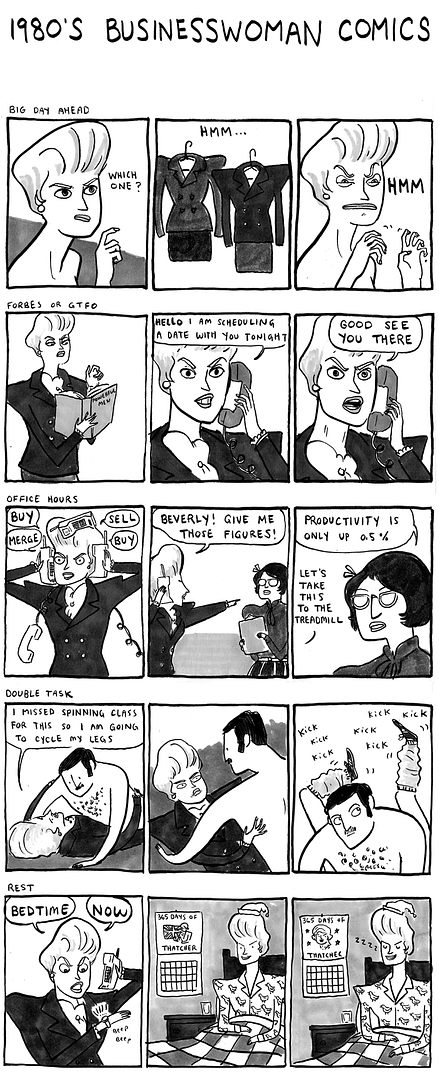 I think these comics are mostly the product of my childhood understanding of business ladies. You see, I was born in the 1980's, when images of boxy shouldered, helmet haired, red lipstick wearing women were striding across magazines and tv shows in giant heels, and I guess they inserted themselves to the pantheon of jobs you one day figured you could have. You know, Nurse, Princess, Teacher, Businesswoman. The following is what I gathered from the images I was familiar with. That these women:

1- Did business All The Time
2- If they were not doing business they were probably exercising.

Pretty fierce, but also, it kind of rules. Anyway you may remember from the archives that I have a ...healthy interest in this sort of thing.

Some items:

The people from Line of Best Fit dropped me a note to say that if you liked that free Christmas album download I linked to a few weeks ago, you will probably enjoy this new free album download! I know I did. My friend Fred has a song in there too. A bonus!

I recently read Julie Klausner's book I Don't Care About Your Band. I really liked it, you may also! You should look into it!

Last update, I linked to my tumblr, and you should know that my friend who set it up for me has a tumblr also. And what a tumblr. The Number One Tumblr, if you will (I will).