Le Petit Caporal
Napoleon is something of an unofficial mascot to this comic, so sometimes I think I ought to throw him in more. He is at least the character whom I have pared down into a certain design over the years. However, as you can see, my depictions don't really help his uh, Napoleon Complex problem. As a person who is 5'2" myself I would tell him it ain't so bad down here, but then, if people made my height as big a deal as they did his and got it wrong anyway, I'd probably have a word or two to say about it.
I'll give you some of James Gilray's caricatures, Gilray really zeroed in on Napoleon's height and I think it's a good example of how powerful cartoons could be with the public imagination! Gilray is one of my favorites anyway, do yourself a favor and look up his work, it's all terribly mean and clever.

You have to admit though, when it came to old political cartoons, nobody got it worse than George IV.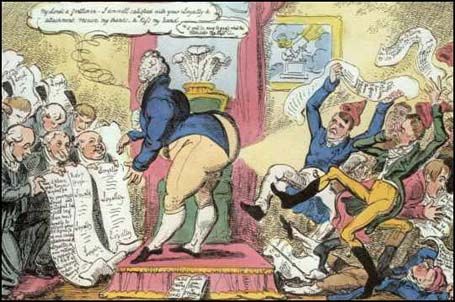 The cheek of that! Haha a cane is going to pull me offstage for that joke. Anyway!
I want to point some friends your way, the first is my old buddy Henry Svec, who
has a new album out for which I did the artwork!
But there is a lot of talent in this collection, a lot of names to check out. And you can download the whole thing right off the website, and then you can sit and enjoy it, and then you can be very pleased with your day! This is my plan for you.
The second is another musical friend, the extra talented
Greg MacPherson
, whose newest record Disintegration Blues is juuusst coming out right now, you can catch some shows in Winnipeg this weekend (
Sept 9th/10th at the West End Cultural Center in Winnipeg
)when it does! I've heard the album already and it is the best!
Holy heck, ok more news, speaking of this coming weekend. I am going to be at
SPX in Bethesda
on Sept. 10th and 11th, it is one of the best comic shows of the year! You can catch me at the Drawn and Quarterly booth. With my new book! For the first time! You gotta come! If it is reasonable for you to do that!
Did you know that I am going on tour with the new book? I am! I even have some confirmed dates for you!
BETHESDA:
SPX
Saturday September 10 & Sunday September 11th
BROOKLYN:
BBF
Sunday, September 18th
MANHATTAN:
Housing Works
with Desert Island Tuesday, September 27th
SAN FRANCISCO:
APE
Saturday October 1st and Sunday October 2nd
BOSTON:
The Boston Book Festival
October 15th
VANCOUVER:
VIWF
Friday, October 21st
PORTLAND: Live Write Saturday, October 22nd
TORONTO: IFOA SAturday October 29th and Sunday October 30th
Oh and there are more dates to come too! Look for Montreal, Halifax and possibly LA.
Comments {51}